There's something inherently magical about seeing the world from a ship. And there is nothing like seeing it while enjoying fabulous cuisine and getting the chance to meet and learn from some of the most interesting movers and shakers in the culinary scene. That is precisely what guests on the Olivia Travel Pacific Coastal Cruise aboard Holland America's exceptionally well-appointed msZaandam, September 25th to October 2nd, 2016.


This adventure is going to prove to be one tasty cruise. The Culinary Food & Wine theme brings you culinary demos by Chef Elizabeth Falkner and onboard wine tastings with sommelier Tracey Rose a.k.a. The Wine Butch, both of whom will be available to join guests on custom, in-port culinary and winery excursions respectively.
ElizabethFalkner does it all from cakes to pizza; restaurants to books; and TV to in-person engagements. Falkner is a multiple award-winning chef and a James Beard Foundation Award nominee, competing in Food Network shows, including Next Iron Chef, Redemption, and Iron Chef America.
Her babies include Citizen Cake and Orson, and she garnered a 2-star New York Times review for her pizza in Brooklyn. Falkner was even the first American to win the "Freestyle" category of the World Pizza Championship in Naples, Italy (2012).
She has consulted for numerous products and brands; written a variety of cookbooks; and is currently working on a memoir, a theatrical food performance, and other multi-genre projects. She also served as the president of Women Chefs & Restaurateurs from April 2014 to April 2015. And guests on this cruise will get the chance to pick her brain and see her in action.
For more than 15 years, Tracey Rose, has been selling wine and taking names – of every new wine find upon which she stumbles, that is. Her wine passion and formal training (WSET Certification) fuels Rose's love for all things wine from seminars to sales to tastings. Rose is all about leading with the fun and leaving behind the snobbery when it comes to wine. Understanding people's palates is Rose's superpower, always knowing just what tasters will like and what they won't! Cruise guests will have the chance to learn from the master and put her skills to the test.
In addition to the culinary magic, the travel magic begins in Vancouver where the art and culture heavy Davie Village will have you wishing you never had to leave this cosmopolitan and elegant city surrounded by inspiring mountain and water views.
That is, until you reach Seattle, the happy home of all things coffee and beer where you can wander the wonders of Pike Place Market (including the famous raw fish throwers); indulge in in a musical excursion EMP (Rock 'n Roll) Museum; or be awestruck by the 365-degree view of Seattle, Mt. Rainier, and Puget Sound from atop the Space Needle.
Next stop – Oregon. Relive your movie memories in the shore town of Astoria, home to Haystack Rock at Cannon beach, made famous by the film The Goonies. But cinema magic is just the beginning. You can also revel in the best of Oregon bounty from award-winning beers to the cuisine of the Pacific Northwest to coastal wines.
An overnight stop in San Francisco follows the Oregon adventure. Delight in breathtaking views from the Golden Gate Bridge; explore the Fisherman's Wharf/Pier 39; meander Lombard Street; experience the Castro district; and lose yourself in Napa Valley wine country.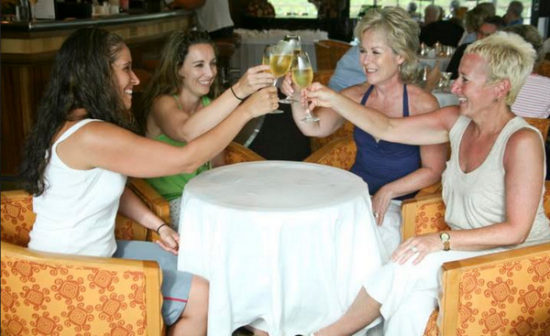 Perhaps you'll want to skip off to Santa Barbara where the cobblestone streets of the quaint Danish town Solvang are calling. Or maybe a trip to Santa Ynez Valley wine country is more your style. It's all up to you.
And for the grand finale, the cruise will wind its way to San Diego, where Hillcrest awaits, where you won't want to miss the kitschy shops and stellar downtown views.
To top it all off, cruise guests will get to see intimate, onboard concerts with three-time Grammy Award winner Sarah McLachlan and four-time Grammy nominee Wilson Phillips. And, of course, there will be lots of music and dancing all week long with Olivia's own DJ Rockaway.
Also on board will be special guest, longtime LGBT advocate, and mother of the beloved Ellen DeGeneres – Betty DeGeneres; award-winning Australian country singer, Beccy Cole, and her partner, Libby O'Donovan; comedians, Suzanne Westenhoefer, Gina Yashere and Elvira Kurt; jazz and blues diva, Sweet Baby J'ai; and DJ Kurty.
Delicious food, fabulous entertainment, and a chance to learn from and rub elbows with culinary stars all while cruising the high seas. It doesn't get much better than that and it is exactly what guests will enjoy on Olivia Travel's Pacific Coastal Cruise aboard Holland America's msZaandam, September 25th to October 2nd, 2016.
Cabins are selling out quickly. But there's still time to get onboard with these culinary greats.
All you have to do is call 800-631-6277 or 415-962-5700 option 1 or visit www.olivia.com. Is not combinable with other offers, and is non-transferrable. Please call 800-631-6277 or 415-962-5700 option 1 for additional information, details, and restrictions.
About Olivia
Kiss who you want to kiss. Play how you want to play. At Olivia Travel, it's all women, all the time. Olivia is the premiere travel company for lesbians. For couples and singles. For lovers and friends. We charter the entire ship and resort just for you. There are plenty of vacation options to choose from, including cruises, resorts, riverboats, and adventures. Take a vacation and escape to warm weather at a resort in Ixtapa, Mexico, or visit some of the West Coast's most LGBT-friendly cities on the Pacific Coastal Cruise.