Seabourn's Pride... Chef Charlie Palmer!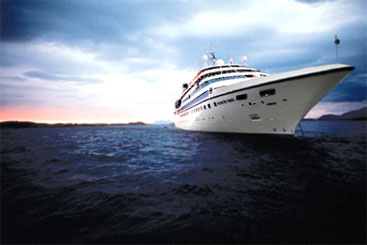 Dining at sea has reached a new high point! From my very first course, consisting of Ruby Red Grapefruit and marinated fluke, topped with ginger crackling, it was clear Seabourn has raised the bar. Their "not so secret" weapon is Chef Charlie Palmer, the proprietor of several top restaurants across America including his New York flagship, Aureole, on East 61st Street and Lexington.
This innovative, creative craftsman has virtually taken over the Seabourn galleys with his distinctive style known in trendy food circles as Progressive American Cuisine. Parker has whipped up a collection of recipes and mentored the onboard galley teams to deliver one of a kind culinary pleasure exclusively to guests dining onboard the Yachts of Seabourn.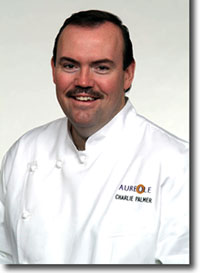 Chef Charlie Palmer
Think about the concept for a minute...Make a reservation at one of New York's most sought after tables and dine there every night for two weeks! And the gravy is being treated every day like royalty by the Seabourn crew, visiting fascinating ports of call and not having to unpack more than once! From my point of view, Seabourn has created a slice of cruising and cuisine heaven!
The introduction of Charlie Palmer's enticing new menus in the ship's main restaurants was so successful; his innovative flair has expanded to influence the onboard alternative restaurant, The Veranda Café with a new array of contemporary cuisine.
Why Charlie Palmer? His award-winning restaurants are lauded for clever combinations of big bold flavors, regional influences, and savvy sophistication with a refreshing American accent. Single-handedly, he has defined Progressive American Cuisine and raised it to a world-class level.
Raised in the dairy farmlands of upstate New York, Charlie Palmer was no stranger to milking cows. As a football player in high school, Charlie was dared by his next door neighbor, who just happened to be the school's home economics teacher, to take a cooking class. Unwilling to risk it alone, Charlie took the dare by first convincing his teammates to also join the class telling them "you can eat everything you make." It was there he discovered a genuine love for cooking and the lesson "to always buy good products and don't screw them up."
That cooking class led to Charlie Palmer becoming one of the world's most celebrated American chefs. A two-time James Beard award winner, Palmer owns an impressive roster of New York City's top restaurants, Aureole, Metrazur, (overlooking Grand Central Station), Kitchen22 (in the Flatiron section), Kitchen82 (on the Upper West side) and Lenox House. Two of the most celebrated restaurants in Las Vegas, Aureole Restaurant in Mandalay Bay and Charlie Palmer Steak in the Four Season's Hotel expand Palmer's popularity in the American West. His most recent shore-side development is the new Dry Creek Kitchen in his Healdsburg Hotel in California's Sonoma County wine region.
Food & Wine magazine says of Charlie, "Palmer is a pioneer who realized decades ago there was a strong demand for great food in America, not necessarily French." Recognizing American cuisine was in its infancy, Charlie spent a lot of time researching and defining what American cooking meant to him as a chef. Today, he says "there's nothing like jumping behind the line and cooking with one of my chefs, establishing a good rapport and having him learn to cook to the standards of my palate."
Seabourn Fine Dining
Seabourn attributes much of its success to the lines' distinctive method of culinary preparation. The Pride offers "a la minute" preparation of both classic menus and more eclectic offerings from Seabourn ports of call around the world.
In the Seaborn Pride's main restaurant guests can start their day with such diverse offerings as Swedish Pancakes with Lingonberry Sauce; freshly baked Waffles with Cinnamon Sugar and Honey Syrup; or Grilled Kippered Herrings topped with sautéed Onions.
For Lunch selections are just as enticing. Examples include Roast Duck Salad with Papaya and Lentils; Warm Seafood Stuffed Pancakes with Pimiento Dip; or a classic Caesar salad with grilled chicken.
Dinner is exceptional with such delectable chef suggestions as Chilled Cauliflower & Leek Soup with poached scallops and sevruga caviar; Pan Roasted Quail in roasted mushroom reduction with porcini risotto; Wild Mushroom Minestrone with mascarpone dumplings; Cumin & Coriander Crusted Swordfish Steak, and Oven Roasted Veal Rack with caramelized onion potato tart.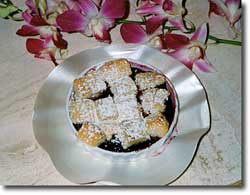 Blueberry Cobbler
Seabourn's Wine List offers a selection of excellent red and white wines served at luncheons and dinners on board with Seabourn's compliments. Piper Heidsieck, Seabourn's "official" champagne, flows freely without charge. In addition, Seabourn features a selection of rare and highly rated boutique wines, a variety of older classic vintages from Burgundy and Bordeaux and a well balanced range of Old & New World wines. At very favorable prices, Seabourn's boutique wine list selection features some of the world's most exquisite wines; some delicate, some robust; but all full of complexity and elegance. Some of the new additions include Lindemans "Winemaker's Reserve" Chardonnay from Australia, Howell Mountain Vineyards "Beatty Ranch" Zinfandel from Howell Mountain, Sena from Aconcagua Valley in Chile, Caymus "Special Selection" Cabernet I Sauvignon from Napa Valley, Sassicaia from Tuscany, and Joseph Phelps "Insignia" from Rutherford Bench and Stag's Leap district. The prices for most of these wines rival those offered by the best wine purveyors.
The ship's 24-hour Room Service is comprehensive and enables guests to request items directly from the Restaurant's dinner menu during dinner hours and may be served, course by course, by a waiter in the privacy of your suite. The coffee table in every suite's seating area can be raised for meal service and will seat four comfortably... My favorite late-night snack was the freshly prepared pizza topped with Garlic Rock Shrimp, Cherry Tomato, Basil and Goat Cheese Crumble.
The Veranda Cafe features bountiful buffets for breakfast and lunch. The atmosphere is more casual than the main restaurant and guests can enjoy dining inside or have the option of enjoying a sea breeze while dining outside on the deck. Nightly theme dinners in the Cafe, provide a charming alternative. I particularly savored the Ginger & Spice Asian meal and thoroughly enjoyed the, Clam
Bake Night. The suggested dress in the Veranda Cafe is Elegant Casual even on formal nights.
From time to time, Seabourn welcomes guest chefs and vintners suggested by Charlie Palmer from his circle of friends and acquaintances to complement his signature cuisine. As a part of Seabourn's Dress Circle onboard enrichment program, chefs, winemakers and noted authorities on the culinary arts present tastings, demonstrations and interpretations during days at sea. On each cruise, the Chef de Cuisine and Pastry Chef conduct a cooking demonstration of two to three of Seabourn's award-winning dishes, including a contemporary dessert. Guests are encouraged to participate. In addition, special shipboard activities include a wine seminar and tastings with the sommelier. At noon, on each day at sea, the sommelier offers a selection of wines for tasting and discussion. These are usually the sommelier's selection to complement that evening's dinner offerings. On occasion, guests can join the chef for a trip to a local market, where they can learn about locally produced food from the purveyors and help pick out an enticing array of fresh produce, fish or other ingredients for use on board.
If you can't get a reservation at one of Charlie Palmer's restaurants, just call Seabourn to book a cruise. A suite on Seabourn automatically reserves one of the best tables at any one of Charlie's places with a guaranteed ocean view. For more information about the Yachts of Seabourn visit www.seabourn.com.