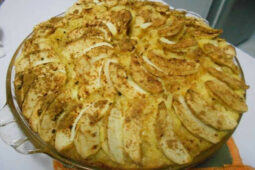 Ingredients
1/2 loaf of leftover bread, cut into small cubes
4 eggs
2 cups milk
3/4 cup sugar
1/4 cup butter, melt
2 apples- peeled and sliced
1 tsp cinnamon
pinch nutmeg
1 tbsp brown sugar
How to make Bread pudding with Apple topping
1. Heat oven to 200° C.
2. Place the bread cubes in a greased pie dish.
3. Mix the eggs, milk, melted butter and sugar and beat till sugar dissolved.
4. Pour mixture over the bread and lightly press down the bread.
5. Arrange the slice apples on the top and sprinkle with cinnamon and brown sugar.
6. Bake in the preheated oven for 45 to 60 mins till golden.
Serve warm