Phuket is undeniably, one of the popular islands in Thailand for international tourism. While this island in the country's Southern Gulf region has a number of gorgeous beaches, the most vibrant beach resort town is Patong. The beach, which bears the same name as the town, is your stereotypical Thai beach with that nice off-white powdery sand and strong waves reflecting beautiful green blue waters.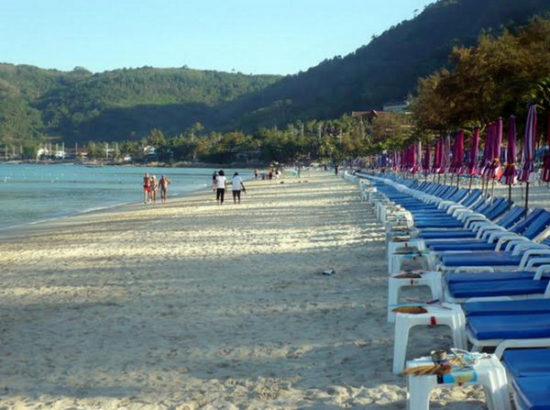 During the day, beach lovers go to 3 kilometer long Patong Beach to swim and sunbathe. But Patong shows a different side when the sun goes down. It is after all, the party hub in Phuket. Bars start to turn on their elaborate neon lights and blast loud music, restaurants are getting busier due to the increasing number of patrons, vendors are setting up more stalls and street performers are showing off their gimmicks to get notice. This is Patong at night, a place where people go to party the night away. It is home to a large collection of not only restaurants but also beer bars, discos and GoGo bars.
The most renowned street in Patong where anything can happen is called Soi Bangla or Bangla Road. Parts of this road can be quite racy and raunchy as some bars exhibit an open concept where sexy pole dancers execute their acrobat tricks for the public to see. You will also encounter scantily-clad women on the streets constantly coaxing potential customers to play bar games like "Hammer the Nail".
And yet, you can still see families with small children walking around Bangla enjoying the scene. Although chaotic, there is some kind of festival-like atmosphere in Bangla Road. Most tourists who come to the street just want to listen to live music, drink a lot and enjoy themselves without worrying about the things they left behind back home.
With thousands of people choosing Patong as their main base in Phuket, it is not surprising that there are hundreds of hotels in the area. The accommodation options here come in various shapes and sizes. You can easily find very basic budget hostels, but you can also treat yourself to a luxurious suite at a five-star hotel.
Not all in the Patong vicinity is hectic. If you want a quieter spot, you can find it. One of them is the 300-meter long Freedom Beach. Surrounded by granite rocks, hills and luscious jungle, this stretch gives the peace and tranquility you may long for. But take note that this type of environment comes with a price – it can be a challenge to get to.
However, if you do take on this challenge, you will be rewarded handsomely with the beach's natural beauty. Another sandy stretch you may want to visit is Paradise Beach, just across Patong Bay. This 150-meter beach deserves its name because every inch of it is simply stunning. Despite of its size, Paradise Beach is an excellent place to swim, kayak and snorkel almost all year around.
If you are a fan of wildlife, drop by Tiger Kingdom. As the name suggests, this four acre spot offers you the rare chance to have a close encounter with Indochinese tigers. Right next to Tiger Kingdom is a Go-Kart track in Kathu at the foot of Patong Hill. So after marveling at magnificent creatures, why not let yourself experience an exhilarating race to complete your day in Patong.