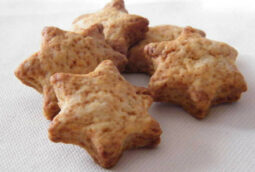 Ingredients
This is is the easiest ever vegan cookie recipe. My favorite one because you can make so many different sweets with it.
125 gr all-purpose flour
1/2 tsp baking soda
1/4 tsp salt
50 gr sugar
40 ml canola oil
40 ml vanila flavored rice or soy milk
1 tsp fresh grated lemon or orange peel
1 tbsp almond meal
How to make Vegan Cookies – sooo easy to make
Turn on the oven to 180°C. Line a cookie sheet with a baking paper.
Combine all dry ingredients in a mixing bowl. Stir. Make a well in the center and add the liquids. Stir with a spoon to combine, then quickly knead with hands to form soft dough.
Sprinkle the working surface with the almond meal and place on the dough. Roll into a 1/2 cm thin crust. Cut cookies with your favorite cookie cutter. Arrange onto the prepared cookie sheet. Dust lightly with dusting sugar.
Bake about 10-12 minutes.
Notes: You can use the same recipe for pie crust, base for different bars.
You can use any kind of liquid you like: apple or citrus juice, coca-cola light, sprite, 7up… what ever you like.
When you bake cookies, you can add dry prugnes or apricots… Or chopped nuts.
You can use a coconut milk and sprinkle the working surface with coconut flackes to make coconut cookies…
Use your immagination…
Enjoy!