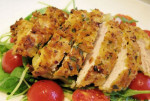 Having seen this recipe being prepared by Gordon Ramsay on the F Word, I decided to try make a slighter lighter version for the summer that leaves out the cheese and goes nicely with salads. I never tried making breadcrumb coated meat before, so I was very surprised at how easy it is and how crispy it can be! You definitely should try it at home!! ( I served the chicken with a tomato, rocket n basil salad.. n some new potatoes seasoned with salt n pepper, lemon juice and red onion.)
| | | |
| --- | --- | --- |
| | | Having seen this recipe being prepared by Gordon Ramsay on the F Word, I decided to try make a slighter lighter version for the summer that leaves out the cheese and goes nicely with salads. I never tried making breadcrumb coated meat before, so I was very surprised at how easy it is and how crispy it can be! You definitely should try it at home!! ( I served the chicken with a tomato, rocket n basil salad.. n some new potatoes seasoned with salt n pepper, lemon juice and red onion.) |
Preheat your oven to 200 degrees C.

Prepare your seasoned breadcrumbs by mixing the breadcrumbs, lemon zest, fresh thyme, and the piri piri seasoning together. ( You can pick and choose any herb combination you prefer, but if you want to use soft herbs like basil it's best to use dried. In this recipe the piri piri seasoning gave the chicken a really nice spicy kick.)

Skin and pound the chicken breasts till thin.

Lightly season the chicken breasts on both sides with salt and pepper, and then dust them with flour.

Dip the floured chicken breasts in the beaten egg and finish by coating them in the seasoned breadcrumbs.

A good glug of olive oil in a hot frying pan and saute the escalopes till golden brown - this takes approximately 2 minutes on each side.

Leave the cooked chicken breasts on some fresh kitchen towel for few minutes to drain, then move them to a baking tray.

Put them in the oven to cook for further 5 min.

Slice the chicken into strips and serve with a nice salad.