This classic recipe comes to us from Austrian Master Chef Toni Mörwald, proprietor of Vienna's Michelin-starred restaurants Relais & Châteaux. It is traditional, simple to make, and delicious. You can watch a video of Chef Mörwald and Karine Hagen preparing the dish together and then give it a try yourself.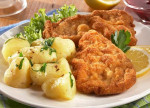 The Cruise Gourmet Recommends this recipe from Viking River Cruises.
| | | |
| --- | --- | --- |
| | | The Cruise Gourmet Recommends this recipe from Viking River Cruises. |
Gently pound veal cutlets with a meat mallet to make them very thin and flat, about 1/4-inch thick. (For ease of cleanup, you can place each cutlet between 2 sheets of plastic wrap or wax paper first; if you do not have a meat mallet, use a heavy pan.) Sprinkle flattened cutlets with salt and pepper and rub with light oil. Set up 3 shallow dishes, 1 with flour, 1 with beaten eggs and 1 with breadcrumbs. Coat each cutlet well first with flour, then eggs, then breadcrumbs.

In a heavy frying pan, melt butter and/or lard. Carefully place cutlets in pan. Melted fat must cover cutlets well. Do not crowd pan (cook 2 at a time). Agitate pan gently as meat is cooking to ensure cutlets do not stick to pan. When cutlets float in oil, breadcrumb coating forms a light, puffy crust around meat and will not retain too much of cooking fat. Cook 3-4 minutes over medium heat until cutlets begin to brown; turn over and cook another minute or 2 until both sides are golden brown. Remove from fat and place on a paper towel to drain. Salt finished cutlets lightly.
Boil potatoes in salted water for about 20 minutes or until easily pierced with a fork. Drain and place them back on stove for a minute or 2, uncovered to steam. Peel, slice into small wedges and put in a serving dish. Melt butter and pour over potatoes; sprinkle with chopped parsley and pepper to taste.
Serve cutlets with potatoes and garnish with lemon slices. Goes well with a sweet white wine such as a muscatel.