A luxury vacation in Europe can be made special and magical when you decide to stay at premier castle hotels. This type of hotel has a very extraordinary appeal because it gives people the opportunity to live out their fantasy and experience the life of a royal. These luxury hotels provide certified 5-star castle accommodation service, amenities and culinary experience that are every bit as rich and wonderful as the history and architecture of its castles.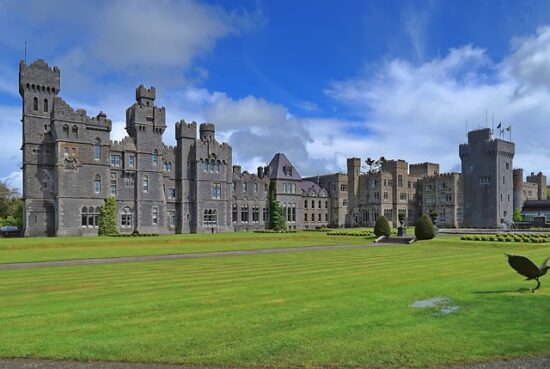 Here are a few of the most fascinating castle hotels in the western part of Europe:
Ashford Castle, Ireland
Ashford Castle is one of the leading European castle hotels and lies in the Mayo County, Ireland. This stunning 13th century castle was turned into a hotel in 1939.  A stay in Ashford Castle allows guests to escape from the chaos and rugged reality of the city and experience a peaceful and relaxing ambience
Ashford Castle is surrounded by Lake Corrib Lake and offers a very stunning view of the country landscape. It has a total of 83 guestrooms and suites and is renowned for staff hospitality. The rooms have retained most of its original characteristics but they are also already equipped with modern amenities like Interactive TV and internet connection.
As a guest, you have complete access to their golf course and spa amenities. You can also enjoy some country sports such as horseback riding, and fishing. The peak season for this hotel is from May to October so remember to book well in advance before this period.
Castello di Vicarello, Italy
Castello di Vicarello is a highly exclusive luxury hotel and resort that stands on a beautiful 60 acre hilltop on the rural lands of Southern Tuscany. The hotel was originally a medieval castle built in the 12th century. The castle hotel's beauty and charm is enhanced by surrounding gardens, olive groves and vineyards.
This castle hotel sets the standard for luxurious vacation as it facilitates only a handful of guests at a time. It maintains only seven meticulously designed suites and is equipped with an infinity pool, spa and organic vineyard. The guests are given free cooking classes and are taken on hunting trips on the hotel's very own estate called Valle di Buriano.
Burghotel Trendelburg, Germany
Originally a 13th-century castle in Hesse, Burghotel Trendelburg manages to maintain all the basic elements of a medieval castle. It has magnificent towers, an ancient brick cellar, a dramatic drawbridge and authentic medieval armor pieces. The hotel castle is ideally located in the same region that gave birth to the Grimm Brothers and is quite near the famous "Fairy Tale Road".
The hotel stayed true to its Grimm Brothers association, by providing its guests a "fairytale and medieval-themed" experience. One castle tower ideal to honeymooners is appropriately called Rapine's Tower. The property also offers fairytale-inspired romantic dinners as well knight banquets.
Burghotel Trendelburg has 15 double rooms, 4 singles rooms and 3 suites. The hotel is close to the Weser River, which gives guests the opportunity to engage in numerous outdoor activities like fishing, swimming, hiking, horseback riding and canoeing.