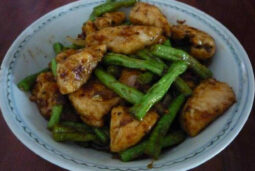 Ingredients
10 long beans, cut about 1 1/2 inch length
1/2 chicken breast- deboned , cut small pieces
1 tbsp cornflour
salt and pepper
Pounded ingredients:
2 dried chillies-soak in hot water
1/2 red onion-chopped
2 pips garlic
1 tsp prawn paste- (belacan)
1 cup chicken stock
How to make Chicken with long beans

1. Mixed salt and pepper to the chicken . Coat chicken with cornflour and fry in hot oil till golden. Add Longbeans and fry for a min. Dish out and drain some of the oil leaving just 2 tbps oil.
2. Add pounded ingredients. Fry till aroma and return chicken and beans, Add stock and stir to mixed well.
3. Serve hot with rice.