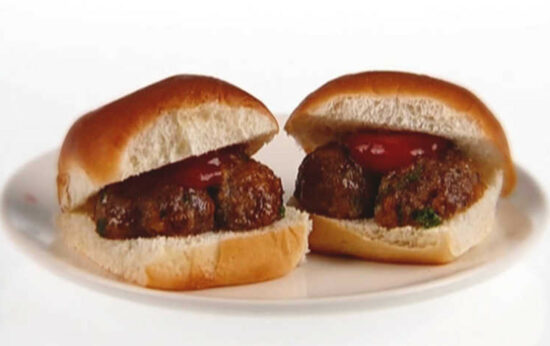 Ingredients
1/4 cup finely crushed corn cereal (recommended: Corn Flakes)
1 tablespoon chopped fresh flat-leaf parsley
1 large egg, lightly beaten
1/2 tablespoon olive oil
1 tablespoon ketchup, plus more for serving
2 tablespoons grated Romano cheese
1/4 teaspoon kosher salt
1/4 teaspoon freshly ground black pepper
1/2 pound (4 ounces) 96 percent lean ground beef
12 (2 1/2-inch-diameter) sweet dinner rolls, halved (recommended: King's Hawaiian)
How to make Mini Meatball Sandies
1. Put an oven rack in the center of the oven. Preheat the oven to 375 degrees F. Line a baking sheet with parchment paper and set aside.
2. In a medium bowl, stir together the cereal, parsley, egg, oil, 1 tablespoon ketchup, cheese, salt, and pepper. Add the ground beef and gently stir to combine. With damp hands, roll the mixture into 12 mini meatballs. Arrange the meatballs on the prepared baking sheet and bake until cooked through, about 15 minutes Cool for 10 minutes.
3. Make an indentation in the center of the bottom half of a roll. Slice a meatball in half and put in the indentation. Add about 1 teaspoon of ketchup to the meatballs and cover with the top half of the roll. Repeat with the remaining rolls and filling.
Arrange the sandies on a platter and serve.
Makes 12 sandwiches, Difficulty: Easy
Source: Nibbledish