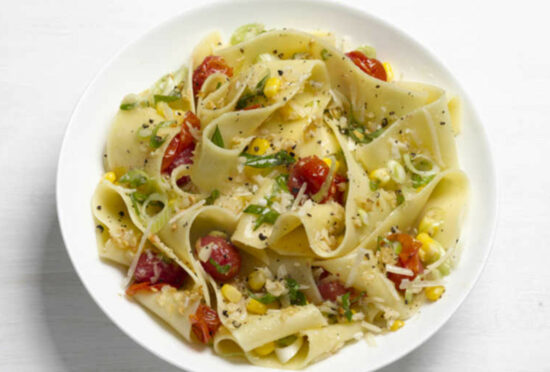 Ingredients
Kosher salt
2 ears corn, shucked
5 tablespoons unsalted butter
3 cups grape tomatoes
2 cloves garlic, minced
Freshly ground pepper
1/2 cup white wine
12 ounces pappardelle pasta
1/2 cup low-sodium chicken broth
1 small bunch scallions, thinly sliced
1/2 cup freshly grated parmesan, plus more for topping
Torn basil, for topping
How to make Pappardelle Pasta with Corn
Bring a large pot of salted water to a boil. Add the corn and cook until slightly tender, about 3 minutes. Remove with tongs, reserving the boiling water. Let the corn cool slightly, then cut off the kernels.
Melt 2 tablespoons butter in a large skillet over medium heat. Add the tomatoes, 1 teaspoon salt and 1/2 teaspoon pepper and cook until the tomatoes soften, about 4 minutes. Add the garlic and cook 1 more minute. Add the wine and cook until reduced by half, about 5 minutes.
Meanwhile, cook the pappardelle in the corn water as the label directs. Reserve 1 cup of the cooking water, then drain the pasta. Add the chicken broth and corn kernels to the skillet and bring to a simmer.
Add the pasta to the skillet; add the scallions, parmesan, the remaining 3 tablespoons butter and 1/2 teaspoon salt. Toss to combine, adding the reserved cooking water as needed. Season with salt and pepper. Top with more parmesan and basil.
Per serving: Calories 635; Fat 22 g (Saturated 12 g); Cholesterol 61 mg; Sodium 256 mg; Carbohydrate 86 g; Fiber 8 g; Protein 21 g
Photograph by Antonis Achilleos