Salvador de Bahia was the capital of Brazil during the colonial times, and is situated at the country's coastline facing the Atlantic Ocean.  It is fondly called "The Capital of Joy" of the Bahia province, and for many good reasons.
The city is has beautiful beaches and mountainous landscape. The beaches along the city's coastline stretch more than 30 miles. The clear turquoise water of the beaches is conducive not only for swimming but for other outdoor activities.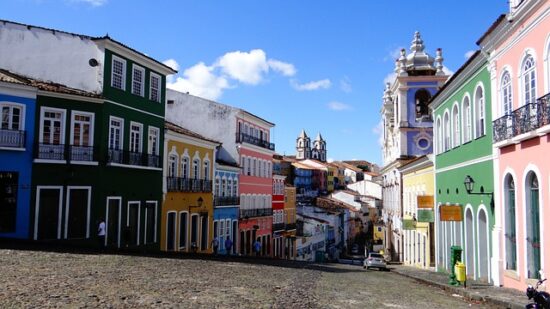 One of the most popular beaches for sailing and underwater fishing is Porto de Barra. If you want to test your surfing skills, then head out to the Aleluia Beach, which features the wildest and biggest waves generated in the region. If you have time, you can visit the Itaparica Island and the Morro de Sao Paulo, which are tourist areas easily reached just by getting a local ferry.
Exploring the Colonial Section
Salvador has a diverse history and culture. As you walk along the city streets, you will notice the mixed influences of African, European and South American cultures.
The city is successful in maintaining old structures that were built as far back as the Renaissance period. One of the main activities during a visit to the city is to tour around its historic center, also called the Pelourinho quarter. This section is listed as a World Heritage Site for UNESCO because of its numerous precious monuments placed in a 16th century open space, as well as the colorful houses that are carefully decorated with a stucco type of architecture.
While exploring this section of the city, do not miss the Mannerist styled Cathedral of Salvador, St. Francis and St Anthony church and convents; the Archiepiscopal Palace and Saldanha Palace, both of which exemplify the Baroque style. The open plazas like the House of Mercy and Municipal Plaza are typical of the old city.  A day spent in this old section of Salvador will give you a sense of the city's rich colonial past.
Cultural Rhythm
Aside from Rio de Janeiro, Salvador de Bahia is the top spot to go to experience a week-long Carnival celebration. In fact, it hosts the largest crowd and biggest events during the festival. If you visit the city during this festival, you will be treated to wonderful Brazilian and African beats like the capoeria and samba, which are renowned all over the world.
Aside from the Brazil Carnival, New Years Eve is a highly celebrated event.   Events are held at city beaches and include outdoor concerts and stage performances, fireworks displays, and family games. Salvador de Bahia's "Mercado Modelo" is the main venue for finding local crafts and art work. The market area is also filled with bars and restaurants, which are ideal places to relax after a hectic day of shopping and touring.
As with any city in Brazil, take caution and be aware of your surroundings…Street crime is rampant!