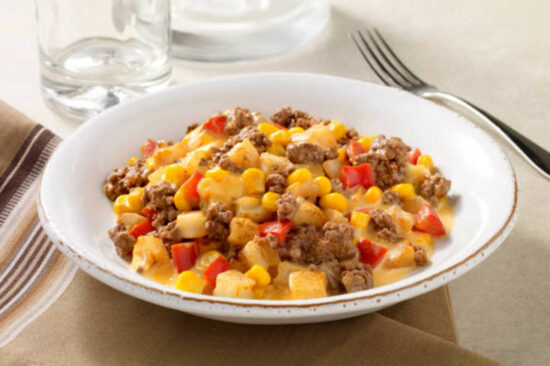 Ingredients
1 lb. ground beef
1 red pepper, chopped
1 onion, chopped
1 pkg. (1-1/4 oz.) TACO BELL HOME ORIGINALS Taco Seasoning Mix
1/2 cup water
4 cups frozen Southern-style hash browns (cubed not shredded variety)
1 pkg. (10 oz.) frozen corn
1/2 lb. (8 oz.) VELVEETA Pasteurized Prepared Cheese Product, cut into 1/2-inch cubes
How to make Tex-Mex Beef and Potatoes
Heat oven to 350 degrees F. Brown meat with peppers and onions in large skillet; drain. Return to skillet.
Stir in taco mix and water. Add potatoes, corn and VELVEETA; mix well. Spoon into 13×9-inch baking dish; cover with foil.
Bake 20 min.; stir. Bake, uncovered, 15 min. or until heated through.
Source: Nibbledish