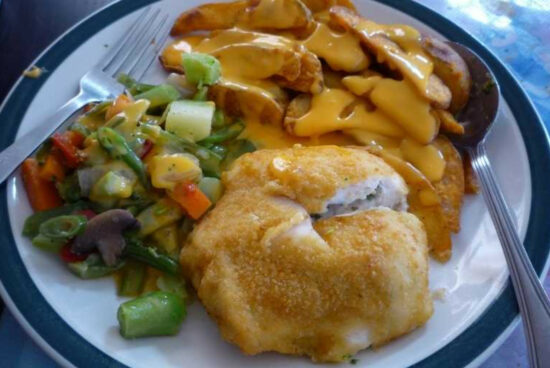 Ingredients
1 packet of wedge potatoes
2 tbsp cheddar cheese whiz
2 tbsp milk
1 packet of mixed vegetables
4 pieces chicken breast
Some golden breadcrumbs
1 egg, beaten
4 pieces small butter
Chopped parsley
Salt and pepper
How to make Butter chicken with wedges potatoes
1. Heat oven to 350 F. flatten chicken breast and sprinkle with salt and pepper, and parsley. place a cube of butter in the centre and wrap up. Coat chicken with beaten egg and then coat with breadcrumbs.
2. Place the coated chicken on a greased pan . and the potato wedges too in the pan and bake for 20 to 30 mins until golden.
3. In a pan, saute the vegetable with salt and pepper for 10 mins.
4. Mix cheese with milk and microwave till it melt. Place wedges and chicken and vegetable on serving plate, pour cheese over and serve warm.
Source: Nibbledish