Considered the third largest lake in Africa, Lake Tana is unlike any other you can find in the world. While most lakes attract tourists to experience water sport activities, cruises and nature tripping, Lake Tana summons you for a mystifying experience.
Located in Ethiopia, Lake Tana holds 37 islands within its waters. It is teeming with wildlife like many lakes around the world, and rich in nature formations including the famous Blue Nile which snakes all the way to Khartoum in Sudan. Lake Tana is also made distinct as several islands are shelters to 22 monasteries and churches that hold Ethiopia's cultural and historical heritage dating back to as far back as 13th century.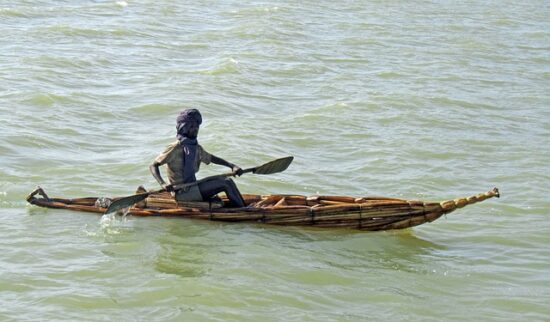 One of the best ways to cruise the islands is to ride a papyrus boat, a popular local transport on the lake. Be sure to hop on a sturdy and new papyrus boat. Although efficient, some boats can be shabby and not that safe so a little caution will be rewarded by a safe journey.  Renting a boat can be expensive, so it is advisable to share one with others in your party or even other tourists. Whichever island you choose to visit you will find sacred ground in Lake Tana's islands.  Here are a couple of monasteries you can visit.
Narga Selassie
Dek island is the biggest island in Lake Tana. There are several monasteries on the island but Narga Selassie, or "Trinity of the Rest" is the most famous. It can be found on the western end of the island. The late Empress Mentewab had this monastery built using giant Sycamore tree for the doors and roof. At present, it is considered to be the most locally adorned of all the monasteries around. At the entrance, you will be greeted by a relief portrait of James Bruce, a Scottish explorer that visited Gondar, the capital, in the 18th century. You will also find colorful frescoes here as artists from Gondar came to paint inside. The sight of the monastery off the quay resembles  a Mediterranean, Southern Italian Island, because of the monastery's stone colors and the island's tall trees.
Ura Kidane Mehret
Technically located in the Zege peninsula in Lake Tana, Ura Kidane Mehret, is the most famous, and considered by some as the most attractive of all monasteries in the lake. This monastery has a globular mud and straw formation with 12 colossal wooden doors, each representing one of the 12 apostles. The walls inside are murals dating back about 100-250 years, each depicting explicit religious tales. There is also an interesting museum here, which keeps remarkable collections of old crosses, royal crowns, ancient traditional instruments, and cooking utensils.
Other Activities
An amazing side trip to your monastery hopping is bird watching.  You will find it rewarding to see numerous aquatic and forest birds. Examples of species you will encounter are Fish Eagle, Lammergeyer, Goliath Heron, Masked Weaver, White-Cheeked Turaco and many more. You may also go to the northern part of the lake near Gorgora for a trip to the magnificent early 17th century palaces and castles of Gondar, reminiscent of  those in your fairy tale books but with a more historically imperial feel. Plus, climbing to the top of the castles, will reward you with a stunning panoramic view of the Mysterious Lake Tana.